#3 Save Space for Food
We go looking for unexpected places and methods to sustainably produce food – resource-efficient, and closer to the destination. After a brief geography tour and history lesson, you'll hear from two groundbreakers who provide their own unique perspective.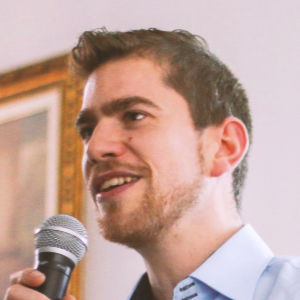 Zjef Van Acker
Infused with political genes, bio-engineer Zjef Van Acker has helped kickstart several initiatives to transform our society into a healthy ecosystem. He's an urban mushroom grower, hobbyist philosopher and vertical farming pundit, researching the AMI model. Discover what those letters stand for, and his thoughts on our modern food economy, in this episode.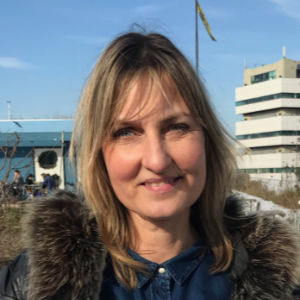 Esther Wienese
Esther Wienese knows a whole lot about the rooftops of Rotterdam – she hosts guided roof tours in the city, she gave a TEDx talk about them, and she literally wrote the book on it. It is filled with inspiration and visions for our fifth walls, an often undervalued part of our urban buildings. We met on the DakAkker, a 1000m² rooftop that combines an urban farm, a bar and restaurant with a terrace, several beehives and a test site for rainwater buffering.
Additional notes & links
Here are the white greenhouse roofs of Westland on Google Maps. National Geographic had a great profile on Holland as an agriculture giant, titled "This tiny country feeds the world". Or if you prefer video, here's a short Bloomberg documentary.
There's another interesting example of a place where you can see the effects of food production from space. Back in the 18th century, you could find fruit walls all around Western Europe: long brick walls facing the sun, that capture the heat during the day, and give it off again, long after the sun has set. They also protect from cold winds from the north, essentially creating a microclimate close to the walls. Temperatures within these enclosures can get up to 12 degrees Celsius higher than outside the walls. Ideal for crops like grapes and peaches.

They technique grew out of fashion when newly constructed railways allowed cheap transport of fruits from the south. But in Belgium and the Netherlands, farmers started to build glass constructions leaning against these walls. Those panes of glass got bigger and bigger, and more affordable, until they looked like the all-glass modern greenhouses we know today.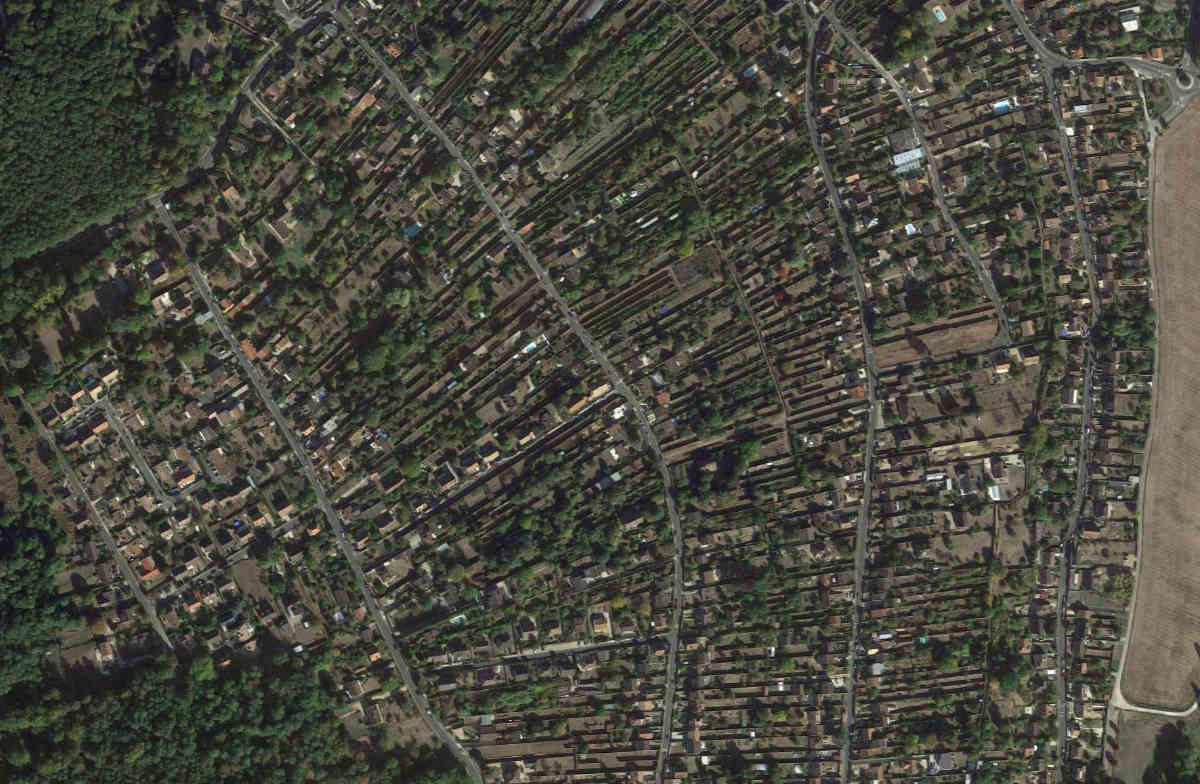 Credits
🎵 All music by Lennart Schoors, except:
Lee Rosevere – Thoughtful
Lee Rosevere – As I Was Saying

Transcript
The glass city
Mei Van Walleghem: Lennart, are you mindlessly scrolling again?
Lennart Schoors: No, I'm just on Google Maps, I'm exploring the world.
Mei: Exploring the world through Google Maps. What have you found now?
Lennart: Well, there's this part you really need to see for yourself. Can you do me a favour and open Google maps?
Mei: Okay.
Lennart: And then search for Rotterdam, and then you have to scroll a bit to the left.
Mei: Hang on, hang on. I'm in the Netherlands, Rotterdam…
Lennart: Yeah, and scroll to the left and between the North Sea, The Hague and Rotterdam you'll see a whole patch of white.
Mei: Let me zoom in a little. Okay yeah, I do see it. There's hundreds and hundreds of white roofs. What are those?
Lennart: Well, take a guess.
Mei: I don't know… not solar panels.
Lennart: Good guess, but no, these are all greenhouses.
Mei: Oh, okay.
Lennart: This is Westland, often called the glass city.
Lennart: There are a few of these concentrations of greenhouses in Europe, like near Almería, right next to the Mediterranean Sea in Spain; and in the Netherlands, where a record percentage of the land area is covered with greenhouses. But space for food crops is not always plentiful, and definitely not unlimited. Here in Westland, the greenhouses have gotten taller over the years – they are slowly running out of horizontal capacity.
Mei: Huh.
Lennart: So, if we want to sustainably feed the growing world population in a few decades, we'll have to develop better farming techniques, that save space and are smarter with resources, located closer to the destination.
This is Tomorrow People, a show about building a better tomorrow, today. I'm Lennart, and I am Mei
World Horti Center
Lennart: I just arrived at the World Horti Center, right in the middle of the Westland region in the Netherlands. The ride here was pretty intriguing, because, after passing by the industrial installations of the huge port of Rotterdam, the road goes past rows and rows of greenhouses. The area itself isn't actually that big, yet hundreds of companies are located here. And not just the growers of food crops, flowers and plants, but also a whole bunch of technology startups and they focus on stuff like transportation, lighting, climate control, harvesting, etcetera. The World Horti Center functions as a central hub of this area, where industry, education and research meet. So, let's go check it out!
Lennart: I visited the centre right in the middle of the busy event season, so unfortunately there was no one available for a proper interview. But I did go on a tour of the facilities, and learned quite a bit. Because the story here is an intriguing one: with less than one tenth the size of countries like France or Spain, the Netherlands is rather small, yet they are the world's number two exporter of food as measured by value, second only to the United States. They achieved this by relentlessly focusing on getting better yield with less resources. So, they get more produce, with less water, pesticides, energy and fertiliser. The World Horti Center welcomes delegations and students from all over the world, who soak up as much knowledge as possible, and return home to spread the word.
Mei: But back home, you said space is often limited, as you said. So over the last decades, people have developed a way to grow food on an even smaller footprint.
Lennart: You mean smaller than greenhouses? But those plants are already packed super tight. I mean, you can't really cram them any closer, can you? Unless of course you start stacking greenhouses on top of each other?
Vertical farming
Mei: Well, that is sort of what they do. Maybe you've heard about vertical farming before. There are several variations of the technique, but it usually boils down to cultivating plants in trays, on multiple layers, and then they use technology and artificial lighting to aid in the growing process. It allows further minimisation of the use of limited resources like water and space, while avoiding excessive pesticides and food miles – which is what they call the collateral carbon footprint for transportation of food. Vertical farming was actually popularised back in the 1990's, but in recent years technological advancements and fresh financial input caused a real surge.
Zjef Van Acker
Mei: We looked up someone who definitely acknowledges the merits of vertical farming, but who has his eyes on even larger goals.
Zjef Van Acker: My name is Zjef Van Acker, and I'm a political entrepreneur, in a way.
Mei: From a young age, Zjef got infused with the activist spirit.
Zjef: I was raised by highly active politicians. My mother was highly conscious of what was happening. My stepfather was highly conscious of what was happening in the political sphere. My father was an active politician.
Mei: After his bioengineering studies, he recalled reading an article about vertical farming.
Zjef: I just remembered that I read about these vertical farms in Scientific American, a magazine. There were a lot of beautiful pictures about amazing skyscrapers and all.
Mei: So, he decided …
Zjef: That is the shit I'm going to do. I didn't know it back then that it was also political. I just said, "I'm going to do this", because this can actually really transform society. If you can build these amazing buildings, and you can bring together a community around it – that's just awesome.
Mei: Unfortunately, these utopian farming high-rises are often no more than computer-generated renderings, for now. But vertical farming is considerably widespread today, albeit on a smaller, more realistic scale. There are numerous warehouses, containers and basements full of neatly stacked trays of plants, basking in bright LED lights. They grow with their roots in water – hydroponics – or even in suspended in the air – what's called aeroponics.
Growing Underground
Mei: One of the most intriguing examples can be found in London, where they're even growing sprouts and lettuce deep underground.
[Clip from a tour of the underground tunnels]
Mei: You can watch this clip from their first experimental setup a few years ago on YouTube – we'll put the link up on our website.
Mei: So they descend this long spiral staircase, down to some very dark and dusty tunnels. These are abandoned bomb shelters, constructed in the second world war, 33 metres below the surface. The tunnels are used because, well, the rent is cheap, but it's also a controlled environment with constant temperature, humidity and light, which is a prerequisite for this technique.
Advantages
Mei: Today, the tunnels are brightly lit and squeaky clean, and Growing Underground is a thriving company. Of course, you don't necessarily have to go underground for vertical farming. Whatever the location, the advantages are numerous.
Zjef: You have multi-purpose use of space, you have more production per square metre. You should have less waste of food, because it's closer to the consumer.
Mei: It's also often free of pesticides and herbicides, and uses way less water than traditional agriculture.
Lennart: Okay, you make it sound like it's some miracle solution. But by growing indoors, without soil, without sunlight, aren't we getting like completely sterile empty plants? I mean, is the nutritional value still there?
Mei: Yeah, that's what I was wondering, I'll let Zjef answer that.
Zjef: Well, nutritional value, when you control it, can be much higher. It's pure science.
Mei: He compares it with our own bodies: if you soak up the sun, your body produces vitamin D, and you get a tan. But you can also take vitamin supplements, and visit a tanning salon for a comparable effect. At least in theory.
Zjef: And with plants it's the same, you can give them the perfect environment, so that they can grow faster, grow better, have more nutrients. What you just said, like, we control it too much, we grow them on water… That's an emotional response to… I would say some urban legends from 40-50 years ago, when the hydroponics industry was still young, didn't know what they were doing. But with vertical farming, with controlled environment agriculture, you can just make it taste better, and make it healthier.
Lennart: So far I've heard talk about sprouts and leafy greens – which are very tasty and healthy, don't get me wrong – but they're not exactly staple foods or big sources of calories.
Mei: Yeah, right. That's a legitimate concern too. Is it actually possible to have diverse, calorie-rich foods with vertical farming?
Zjef: For sure, for sure. You know the plant- vertical farming industry has been focusing on herbs, and leafy greens, because it's the economically viable thing to do. To make an example, or a comparison, Elon Musk's first electric car was also triple the price of the electric car he's making now.
Mei: It's a commonly made argument, but it holds water. The first Tesla car was a very expensive niche product, but gradually electric cars are becoming more and more mainstream. The range of models expands, and prices go down. Likewise, vertical farming is evolving rapidly, and there are likely some considerable gains to be made from economies of scale. Who knows, maybe it will one day be financially feasible to grow potatoes vertically. Until then, vertical farming remains a pretty resource-intensive technique, especially in terms of energy. And that got Zjef and bunch of his colleagues thinking…
AMI
Zjef: How can we apply vertical farming to be much more resource-efficient, and much more energy-efficient?
Mei: Which is how they came up with the AMI concept.
Mei: The UN Food and Agriculture Organisation estimates that one third of the food we produce is wasted every year. Think about that, that's about 1.3 billion tons of food! There is unsold supermarket excess, restaurant leftovers, residential food waste, … And then there are other waste streams, like grey water, excess heat from factories, CO2, etcetera. AMI is an intricate circular system where these waste streams are turned into new resources. It stands for aquaponics, mushrooms and insects, and works like this:
Organic food waste is served to insects, which are in turn fed to fish. The fish excrements are an ideal substrate for hydroponics, the vertical farming of food crops. Waste from those food crops is an ideal breeding ground for mushrooms. In every step of the process, nutrients, gases, humidity and heat can be exchanged and applied where needed.
Zjef: If we're following this whole thing, you have a lot of circles, a lot of loops. And that's what AMI is. We can apply these systems to our cities, which will become a lot more resource-efficient. Instead of a lot of input and a lot of waste, we can actually reuse that input, constantly, all the time.
Mei: For now, AMI is a research project. It's one possible way to describe a circular food production system, and more experimentation and research is needed. But that's not a cheap thing to do.
Zjef: Especially in the early years, everybody was into vertical farming, like "let's work together, let's create utopia". But then, more money got involved, and a lot of the good will, and the good intentions had to make way for, you know, survival mode, at some points, even.
Mei: It's hard to be competitive in the current system.
Zjef: You know, current agriculture, the big monoculture agriculture, is viable because we do not value nature into that equation. If we would value ecosystems, we would have to pay much more for that food.
Mei: This gets to the heart of the problem, according to Zjef Van Acker. Our food is undervalued.
Zjef: I don't want to attack anybody with this, but we as a human society are valuing things completely wrong. It's a habit, it's something you learn from when you're young, which is a fundamental problem. And I'm witnessing this now first hand. I've been doing research in the past seven years, talking to many farmers, talking to everybody around in the industry – multinationals, also lobbyists, but also farmers and students… And farmers have it hard. Especially the urban farmers.
Mei: Think about this. Food is omnipresent in our lives. Just open social media, or look at all the cooking shows on TV. We're basically all foodies, ready for our next picture perfect brunch or fancy dinner. But fewer and fewer people still cook their daily meals from scratch at home. With the convenience of eating out, ordering in or having a meal kit delivered, perhaps we've grown too disconnected from the source of our food, where it comes from and how it's grown.
Zjef: The production side of our society is less respected than, I would say the service part of our society. While the services are less essential to our survival, to our happiness, than the production side.
Mei: So, how do we begin restoring that balance?
Zjef: I think we also will have to look at the way our economic system, and our society is built. That's why I'm a political entrepreneur, because I see the challenges vertical farming is facing, to actually make it available to everybody, are the same challenges as the rest of society is facing. It's the same reason why there's a big inequality gap in society. It's also one of the reasons why there's climate crisis. It's because there are some issues, and we will need to evolve as a society to make 'em better. Because just supply and demand ain't gonna cut it. It's too short-term thinking.
Mei: Here's what Zjef says about technology in the equation.
Zjef: I think technology is like the same as exploration for humanity. It's like exploring our abilities. I would compare it to like if you learn how to skateboard or if you learn how to ride a bike. Or I don't know, if you do sports, you want to get better at something. I think technology is, we as humanity, like, challenging ourselves to do better. If we want to grow bigger as a society, grow better, go to mars or explore the solar system, we will have to deal with the current fundamental flaws and make it better. Technology can help with that, but it should not be our only option of survival. I'm not sure if the AMI idea will be the end of the quest for a sustainable society… Maybe? But we will know that in 10, 20 years, I guess.
Jamie Oliver
Lennart: Now, all this talk about restoring that connection with food reminds me of Jamie Oliver – you know, that famous TV chef – when he asked a bunch of kids to identify some fruits and vegetables. Wait, let me see if I can find a clip online… Ah, here we go.
Lennart: So he's in a classroom full of six-year-olds, asking them…
Jamie Oliver: Who knows what this is?
Lennart: And he's holding up a bunch of tomatoes.
Kid 1: Potatoes?
Jamie: Potatoes, so you think these are potatoes? Not potatoes though. Who knows what tomato ketchup is? Yeah, that's is what it's made out of!
Kid 2: Oh tomato ketchup, I know that one!
Lennart He tries this with a bunch of vegetables, like, he shows them an aubergine, which the Americans call an eggplant, and the kids just keep guessing wrong.
Kid 3: A pear?
Jamie: A pear, no.
Kid 4: A turnip?
Jamie: No. Ok, I'm going to give you the first word: egg.
Kid 5: Egg salad!
Lennart: Yeah, he said egg salad.
Mei: Oh that's just sad.
Lennart: Well, as Jamie Oliver says, we can't blame these kids, they're not stupid. They're just the product of society. The problem is that the distance between us and the basic building blocks of our food is getting bigger and bigger, both in the mental and physical sense. Now, after the break, I want to talk about one way to bring them closer again.
BREAK
Mei: Tomorrow People needs your support. If you like what you're hearing, please do tell your friends and family. Word-of-mouth is the best way for us to reach more people. So send them over to tomorrowpeople.today. Of course sharing our show on social media is also much appreciated. Want to hear what's coming next? Subscribe to the show directly through your favourite podcast app on your platform of choice, or in Spotify. Another great way you can support us is by leaving a rating and review, on Apple Podcasts for example. It all helps us spread the stories of the Tomorrow People. Let's get back to the show.
The fifth wall
Lennart: Even though prices for urban real estate seem to be perpetually rising, there is a part of our buildings that is often left entirely unused: our flat roofs. They are what is sometimes labeled as the fifth wall of our buildings. To talk about their potential, we met up with author and city guide Esther Wienese, 7 floors high in Rotterdam.
Esther Wienese: My name is Esther Wienese, and I am the author of the book 'Rotterdam rooftops: Taking resilience to a higher level'.
Lennart: It's no coincidence that we met in this city.
Esther: Rotterdam has the most flat rooftops of the whole of Netherlands. We have 18 million square metres of flat rooftops, and one million of that is in the city centre. And that has to do with the bombardment in 1940. We lost our city centre, and it was rebuilt. And that's very interesting, because there lies a big challenge.
Lennart: World War II left many European cities in ruins, so they were forced to focus on rebuilding society. These days however, the challenges are more specific.
Esther: Population growth, climate change and energy transition.
Lennart: Esther uses a colour coded classification for the potential utilisation of our rooftops.
Esther: You have red rooftops for working space, living space and recreation. You have green rooftops for nature and urban farming. Blue rooftops can also buffer rainwater. And yellow rooftops for energy from solar panels and wind.
DakAkker
Lennart: The best rooftops combine several of these functions. The one we were standing on is perhaps the epitome of that idea: the DakAkker, which is Dutch for something like "rooftop farmland".
Lennart: We are standing here on the DakAkker, can you tell me, what are we looking at?
Esther: Well it's the first urban farm in Holland, and the largest in Europe. It's only a 1000 square metres, so it's not that big.
Lennart: It's still big!
Esther: It's still big. And it is a test site developed to test if you can use a rooftop for vegetables and things like that.
Lennart: It is now winter time, it's not the best time to grow vegetables, but do have an idea of what crops you can grow here? What is ideal, and what's maybe not so good here?
Esther: So they had to find out what works on this rooftop. And they noticed that eatable [sic] flowers, they work very good – it's a beautiful picture in summer and they sell very well, so they make the best profit. They work very well on this kind of roof, because it has no soil.
Lennart: The composition of the rooftop is indeed surprisingly shallow, usually about ten to twenty centimetres of substrate. Which is plenty for edible flowers, herbs, fruits, vegetables like radishes, pumpkins and garlic. And some sizeable bushes grow where the substrate is a little deeper. But constructing and supporting a rooftop garden is no small task, and not cheap. This particular roof is successful precisely because it combines the different functions we discussed earlier.
Esther: An urban farm on itself does not make enough money to exist. So you need a place where people can sit and take a drink and have food and enjoy the view. So this is the challenge for this rooftop. And they do it for instance by making this a place where you can marry. And they guide schoolchildren on this rooftop.
Lennart: They also offer guided tours for visitors, they host commercial photoshoots, they sell the honey from the bees that live there…
Esther: It's the first rooftop where we do this, and it's to find our what works. So this is the urban farm, you have the restaurant that works really good. And we have, on top of that, the smart roof.
Lennart: With helicopters flying over, we took one more flight of stairs and Esther Wienese showed me the smart roof where they run experiments with rain buffering.
Esther: Mostly I take people here because the view is great. And you can also see how many rooftops there still are, that have lots of potential. Here, this is a school. Wouldn't it be great to have a terrace there, or a place where people go do their running rounds every day.
Lennart: I even saw a picture of a children's playground for a school on a roof here close by?
Esther: Yes, that's near the Markthal. The school was on the spot where the Markthal had to come, so they had to move over, and they made the playground on the rooftop. And the children they love it. They're not at all scared of heights. There's also a very good fence around it, and even after a while, the parents they love it too.
Lennart: That helps, the fence.
Esther: What I do notice is that people get aware. Most people have never thought about using their rooftops. And that's important about this book, guiding them, that they get a sense that "wow, this is great, we can do so much with our rooftops". And they get inspired, and I hope it leads to their own action
Lennart: We can and should make better use of our fifth walls. The DakAkker in Rotterdam is a great showcase of how we can move the food chain closer to the city, closer to the destination, closer to us. And how we can combine it with other beneficial functions. A different example that shows we're not there yet however, is the huge Urban Farmers greenhouse on a rooftop in The Hague, a city not too far from Rotterdam. For a variety of reasons it went bankrupt in 2018 after only two years of operation.
Conclusion
Mei: Technological advancements such as vertical farming and AMI may not be the proverbial silver bullet, but they at least help us explore the possibilities of moving towards more sustainability in agriculture. And community projects like rooftop farms not only have the ability to strengthen our personal connection with the origins of what's on our plates, they can also bring people together in largely individualised urban societies.
Esther: In 2030, 70% of all people in the world will live in cities, and 50% of all the people that live in the city will live alone. So it's very important for people to have places to meet, and to have a kind of community. And rooftops can offer that.
Credits
Lennart: This episode of Tomorrow People was produced, hosted, edited and scored by Lennart Schoors and Mei Van Walleghem. Additional music by Lee Rosevere. Many thanks to our guests Zjef Van Acker and Esther Wienese. Additional thanks to Ysabel van der Meer, Rianne Vink, Benjamin Harrus and Sophie Winter. Do check out Esther Wienese's book about Rotterdam rooftops. It's a lovely coffee table book filled with inspirational pictures. We'll have a link on our website at tomorrowpeople.today.
Mei: You can also follow us on Twitter, Facebook and Instagram, for previews and behind the scenes shots. If you like the show, do tell your friends and leave a review on Apple Podcasts. Thanks for your support! It helps us spread the stories of the Tomorrow People. In two weeks, we'll talk about worship and why churches are being used as bicycle sheds.