#8 Powerful Alternatives
In these days of climate change and discussions about fossil fuels, the first alternative sources of energy that come to mind are probably solar power and wind turbines. For good reason of course, as they are the most common, and widespread. But there are two other sources, manpower and gravity, that can be utilised in some very remarkable and useful ways. We found three intriguing applications.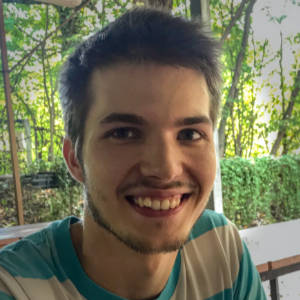 Gianluca Ferrin
Hidden in the outskirts of a small village in Northern Italy, the Ai Pioppi amusement park is a pretty unique place. Built by hand, all the elaborate attractions and rides in the park run entirely on two power sources: humans and gravity. No electricity involved! Gianluca is the grandson of the man who founded it half a century ago, and he retells the history.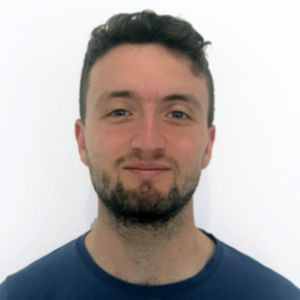 Shaun Pirie
What do you do when you don't have access to the electric grid? Or when you simply can't afford the power bill? About a billion people all around the world use kerosene lamps, which are dangerous, unhealthy, and still expensive for some. Shaun and his colleagues at Deciwatt are on a mission to make the ultimate low-cost light.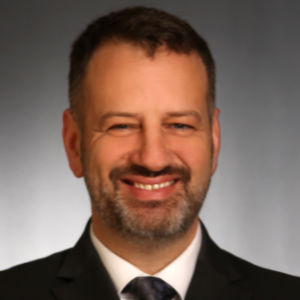 Gernot Beutle
When one of their clients wanted to electrify a mining dump truck, Gernot and his team at eMining took on the challenge and built the largest electric vehicle in the world. And thanks to the gravitational pull of the earth, the eDumper sometimes reaches the bottom of the slope with a higher battery charge than when it started its ascent!
Additional notes & links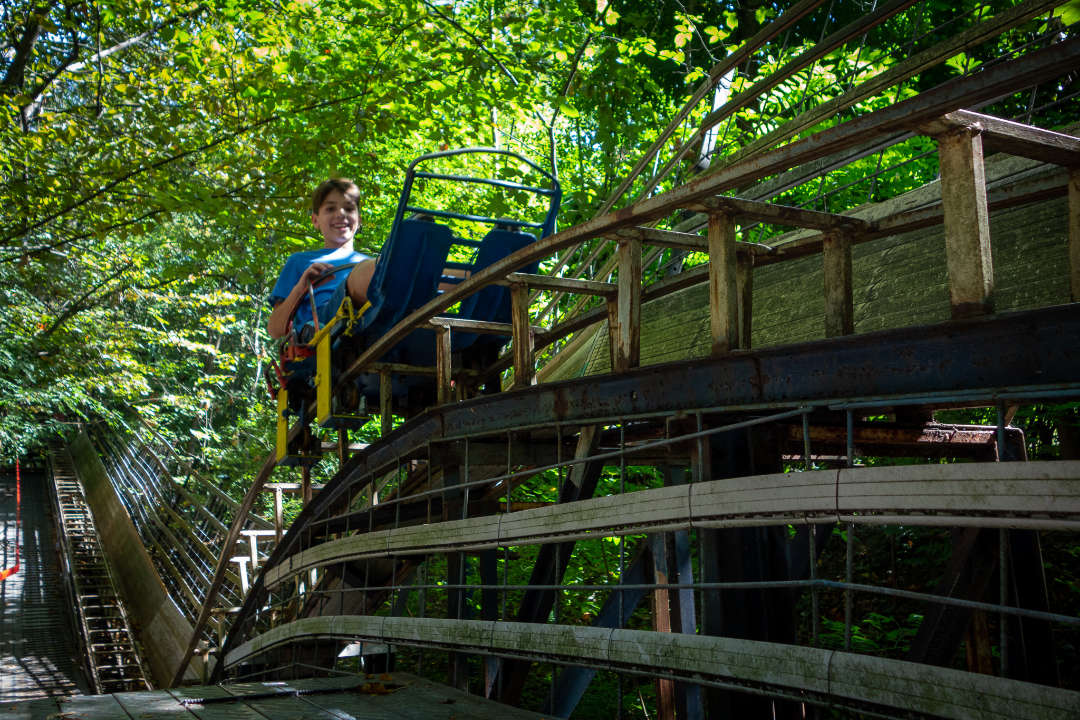 Credits
🎵 All music by Lennart Schoors, except:
Hey Lunar – Twangling
Matt Fax – Aeolis Mons I
Red Licorice- 2456
Lee Rosevere – More On That Later
Watermark High – Elsewhere
Transcript
Lennart Schoors: These are the sounds of Ai Pioppi, an amusement park located in Northern Italy, at the edge of a small village called Nervesa della Battaglia, somewhere between the Dolomite mountains and Venice. On first listen, it sounds like any other amusement park. Except, there are no motors whirring, no engines revving up, no generators humming in the background. That's because all the attractions on this playground were built by hand, and they all run on two very simple sources of energy: humans, and gravity.
Of course, there are some simple attractions – I'm seeing swings, small carousels and homemade trampolines. But there are also huge, sprawling constructions, sometimes reaching above the treeline, that you can run, climb, glide, tumble and cycle on. The crown jewel is an 120 metre long rollercoaster. Since there is no electricity, your ride starts by pushing the cart up the hill yourself. But that's a small price to pay for what follows.
Mei: In these days of climate change and discussions about fossil fuels, the first alternative sources of energy that come to mind are probably solar power and wind turbines. For good reason of course, as they are the most common, and widespread. But these other two sources, manpower and gravity, can be utilised in some very remarkable and useful ways. There are bicycles and automatic watches of course, but we found three more intriguing applications. For fun and good times, like at the amusement park in Italy, but also when other forms of energy are unavailable, or simply because it makes economical sense on an industrial scale.
This is Tomorrow People, a show about building a better tomorrow, today. I'm Lennart, and I am Mei
Mei: Human progress is relentless. While your great grandparents possibly didn't even have electricity in their childhood homes, we're now at the point where we use electrical power for pretty much every activity. And the proliferation of batteries has only strengthened that evolution. Electrical power has resulted in a certain comfort level, but when does it turn into unnecessary luxury? For example, do we need electricity just to have a fun time at the amusement park?
Lennart: Right, that was the question behind the Ai Pioppi park in Italy. The story started in the late 1960's, with Bruno Ferrin.
Ai Pioppi
Gianluca: My grandfather.
Lennart: This is the voice of his grandson Gianluca.
Gianluca: I'm Gianluca.
Lennart: His grandfather started the park half a century ago.
Gianluca: And now he's 81, and he is still doing, he's still working here.
Lennart: Still looking spry, the old man is working the cash register, but he only speaks Italian, so that's why I'm talking to his grandson. Back in the sixties Bruno Ferrin was a sales representative for baker's yeast, and he worked on the typical bakery schedule, with very early mornings. At the end of his working day in the afternoon he had a lot of free time. So he decided to open a tavern, and welded his first swing together for the kids that came by. One thing led to another, and he kept building more and more complex games and attractions.
Gianluca: Yeah, of course with some coworkers. But mostly the ideas came from him. So he designed how the rides should work.
Lennart: Now, 50 years later, there are 40 different rides and activities, and they keep building more. Gianluca's grandfather has always been a bit mysterious about his motivations, but the inspiration comes from all the fauna and flora around him.
Gianluca: The ideas came with just looking at nature, he said.
Lennart: Admission to the whole park is free for clients of the restaurant, which is the only place you'll see power outlets. They take the idea of no electricity very serious. Even the brakes on the rides, and the access control gates, they're all clever contraptions and mechanical marvels. It's a safe park, with guards stationed at the biggest rides, but there is a refreshing vibe of personal responsability throughout.
Gianluca: Some rides are forbidden to young kids. But obviously, you have to pay attention to what you do.
Lennart: Kids can be kids here, without the patronising. And that's also what appealed these American visitors that I bumped into.
Claudia: My name is Claudia Yanel. Lynette: And I'm Lynette, and this our friend Laurie.
Lennart: Over the years, the park has become quite a bit of a tourist destination. Claudia, Lynette and Laurie, whose husbands are all stationed in Italy by the US army, first read about the park in a travel magazine.
Lennart: So you knew about the fact that it's like a special park, there's no electricity, all the attractions are run by hand, …
Claudia: Oh yes, that was featured in the magazine. I think it's super unique. It's nothing that I've ever seen in the US, and so I think it's something that our kids being exposed to would be really neat. Just for them to see that not everything needs a source of energy to have fun. You don't have to be on a tablet, or iPad. So it's a good, fun way – a healthy way to have fun.
Lennart: And the kids seemed to agree:
Kids: It's really fun. It's kind of a workout.
Lennart: And what's your favourite attraction?
Kids: The seesaw. I liked the slides. And the tire swing. And the long cart ride was fun too.
Deciwatt
Lennart: Let's turn to another part of the world. About one billion people don't have access to electricity in their homes today – mostly in rural areas of Africa and Asia, but certainly not exclusively. Sometimes that's because there is just no distribution in these remote parts, but often also because they simply can't afford it. And so they use kerosene lamps for their lighting. Usually just a shoddy homemade can with a burning wick. Of course, the downsides are plenty: they spread toxic fumes, they frequently cause fires and skin burns, and they are still very costly. It's not uncommon that a household spends 20% of their income on kerosene. And then of course they use a vast amount of fossil fuels, an equivalent to 1.3 million barrels of oil per day.
Mei: Several organizations and charities are trying to fix this, with things like wind-up lights, batteries, and of course, solar energy. In 2009, one of those charities tasked a product design company from London to develop an extremely low-cost solar light. But they had to acknowledge the fact that solar energy is not as ever-present as you think it is. For example, in an emergency at night, in foggy weather, sand storms or dust clouds from a volcanic eruption.
Shaun Pirie: We wanted to address one of the main problems with solar, that is that if there is not enough light, solar would be useless.
Mei: We had a call with Shaun Pirie, product design manager at Deciwatt, the company that was born out of this design process. After a lot of research and tinkering, they ran into a second issue: batteries and photovoltaic panels were simply too expensive for the price they were aiming for. So they went back to the drawing board and started thinking outside of the box.
Shaun: When you look at all the different ways you can produce power, and what's the most abundant, it's sort of the human power.
Mei: Human power is the most ubiquitous, available at all times of the day. But of course you don't want to be turning a crank non-stop while you're in need of light. So you need a way to store it. They determined batteries were too fickle and too expensive…
Shaun: So, looking at the ways you can store energy, obviously lifting up with gravitational energy was the way that we went. There were lots of different ideas, but that was the one that sort of made the most sense for the environment.
Mei: They invented the GravityLight.
Lennart: The GravityLight is a small plastic case, housing an LED light, with a ribbon sticking out at the bottom. At the end of the ribbon is a little hook, on which you can attach a bag that you fill with any weight you can find. It can be dirt, rocks, sand, anything. You winch up the bag manually, and then as the bag slowly drops to the ground it drives a generator, creating 20 minutes of light.
Mei: It might seem strange to ears accustomed to having unrestricted access to incredibly bright lights at the flick of switch. But for a billion people, having a safe, small lamp that always works, simply by lifting a weighted bag, is a true revelation.
Shaun: One of the best things about the product is that when you see it you can instantly engage with it, and understand how it works, and its use. So there is sort of a tangible product, which is quite different to a lot of the current designs and products that you see on the market today.
Mei: With a working prototype in their hands, the folks at Deciwatt turned to crowdfunding.
Shaun: Crowdfunding is both a way of raising money but also raising awareness for the cause you have, and it was a really good way to engage, and understand that people saw this as a solution that could work across the globe.
Mei: They tested, iterated, and expanded their pilot programmes. They designed a second version, and even some satellite lamps that you can hook up to the main generator. But even though there are now tens of thousands of GravityLights in use, they could never really hit that ambitious super low price point.
Shaun: In terms of complexity, and scale, we never really reached the sort of mass production scale that was required to scale down. And also there were lots of iterations and challenges that made the design a bit more complicated than we'd initially hoped. But the main sort of thing is not reaching the scale that was required.
Mei: A few years after their first prototypes, it was clear that the world had changed in the meantime.
Shaun: As the cost of solar has come down, and the complexity of the GravityLight we understood was a limiting factor, we decided to take a step back and look at the problem again.
Mei: Solar energy was getting cheaper every day, battery technology had improved, but the needs of people have shifted too.
Shaun: People want brighter light, they want to charge mobile phones, which have become more and more and more accessible across the world. And often a mobile phone is actually an identity for people across the world, with mobile banking platforms. And that's where the sort of idea for NowLight came from.
Mei: The NowLight, their second product, has much stronger LEDs, available in six brightness levels, and a USB port to charge devices. It also does away with the big bag of weight of the GravityLight, which was too limited to produce the energy levels required. It does have a small, optional solar panel, but there are other options as well.
Shaun: So we wanted to have a system which was versatile, that it could be charged from solar, but it could also be charged from manual, or it can be charged from the mains if required. So we wanted to create that sort of versatile solution that could be employed across many different situations.
Mei: To charge the NowLight manually, you can pull the ribbon itself.
Shaun: So on the sort of lower to medium light levels, if you're pulling for about a minute, you get at least an hours worth of light.
Mei: They went through the whole process again: crowdfunding, tooling, testing, … Trips to China to find all the components and suppliers. It's a long road dotted with pitfalls and hurdles.
Shaun: Anything from shipping batteries across the world, to information about these certifications, and making sure your product doesn't produce any signals that are interfering. It's a necessary thing, because you want your product to be completely safe.
Mei: At the time of this recording, the first NowLights have started shipping to customers. Ultimately, Shaun and his colleagues at Deciwatt figured out that everyone can benefit from a device that provides light and electricity in a safe, sustainable, clean and affordable way.
Shaun: We want to build sort of a sustainable business model where it's approachable for many different markets. So it's approachable for the western market where they might want to have a light out in their outbuilding or shed, but also it could be in your earthquake preparedness kits, it's a disaster relief, but also as a source of light and power in different countries which are more off-grid. So building that sort of like global reach, increasing volumes, allowing the product to come down in cost, and making it more and more accessible to people across the world.
eMining
Lennart: Our final stop on this trip looking for powerful alternatives finds us in the stunning Swiss Alps.
Gernot Beutle: My name is Gernot Beutle, I'm the sales manager of eMining.
Lennart: eMining is a small company that was spun off from a much larger business.
Gernot: Our parent company Kuhn is a construction machine dealer.
Lennart: Founded in 1973 in Salzburg, Austria, Kuhn is active in about a dozen countries across Europe, selling and servicing construction machines, forklift trucks and mining machines. A couple of years ago, there was a quarry in Biel, Switzerland, with a pretty unusual request.
Gernot: It was a client, who had the idea to electrify a dump truck.
Lennart: They wanted to make an electric version of one of those big dump trucks, you know, as big as a house, with a set of stairs in the front to climb up into the cockpit. So they got the necessary people and know-how together and built the world's largest electric vehicle, weighing in at a whopping 45 tons. It's an impressive beast, with tires the size of an average man. It sounds pretty neat too.
Gernot: Basically, it's a used machine, which we took into our body shop, and converted. So we disassembled it completely, then we threw out the diesel engine and the transmission. We modified backets, cardan, … components that were exchanged, in order to basically have a brand new machine. It took us eight months, and since March 2018, the machine is running in this quarry, in Biel.
Lennart: They named this electric dump truck the eDumper, and put in a battery pack of about 700 kilowatt-hour. To give you an idea: that's seven times the capacity of a top of the line, long-range electric car. Which is a lot, but for a total weight of more than a hundred tons when the eDumper is fully loaded, that's actually fairly moderate. That is because it uses a secondary power source – you guessed it: gravity.
Mei: In a regular car, when you hit the brakes, all the kinetic energy from the moving object is converted into heat, and wasted. You might have seen images of race cars with those glowing brake discs behind the wheel. But in electric vehicles it's fairly easy and common to use a technique called regenerative braking, where all that kinetic energy is recovered, and fed back into the battery. It usually returns a few percentage points of the energy used.
Lennart: Now the eDumper has a unique advantage here. You see, it drives up the hill empty, gets filled with 65 tons of lime and marlstone, and comes back down at more than twice its weight. This enormous difference in mass, coupled with the pull of the gravitational field of the earth, generate a massive amount of power. In fact, the eDumper sometimes reaches the bottom of the slope with a higher battery charge than when it started its ascent.
Gernot: In the end, let's say, we are 96% efficient. In this case.
Lennart: In the ideal circumstances, the eDumper barely needs charging.
Gernot: During summertime, when there are good road conditions, and dry weather, then you don't need to recharge the machine for let's say three days, for example.
Lennart: On snowy winter days, it might need to be refueled once or twice a day. Compared to its diesel-powered colleagues, the eDumper is at least as productive, and saves roughly 50.000 liters of fuel per year. So far, there's only one electric dump truck in the world. And although it may not make sense in every situation, there are still plenty of mining machines ready for conversion.
Gernot: Every 25.000 hours, more or less, they have to have a major rebuild service, where they basically have to remove the diesel engine, overhaul it completely, or change it. And this is our idea: that we come with our electric propulsion, and the battery pack, and change it there.
Changing the mining industry, one dump truck at a time.
Gernot: You can't change the world, but with a small company, sometimes, you can make some differences.
Conclusion
Mei: To answer the question from the beginning of this episode: no, we don't need electricity to have a fun time, as we discovered at the Ai Pioppi playground in Italy. And for those times when we do need electricity, let's not forget that humans and gravity can be mighty sources of power, from a tiny lamp in a rickety shed in rural off-grid lands…
Lennart: … to a big freaking dump truck in a quarry.
Credits
Lennart: This episode of Tomorrow People was produced, hosted, edited and scored by Mei Van Walleghem and me, Lennart Schoors. With additional music from Musicbed. Thanks to our guests Gianluca Ferrin, Shaun Pirie and Gernot Beutle. Additional thanks to Kris De Decker and Chris Skilton.
Mei: Enjoyed this episode? We have a whole first season for you on our website tomorrowpeople.today. So be sure to check those out, if you haven't already. Subscribe to hear the next one the minute it comes out and please share this podcast with your friends. We really appreciate your help spreading the message of our tomorrow people on social networks or in real life.
Lennart: As usual, we have a bunch of great links, pictures and videos about this episode, so if you want to see that electric dump truck in action, take a look at the Ai Pioppi amusement park, or you want to order a NowLight, head on over to our social media or visit our website.
Mei: In two weeks, we'll find out what's bugging our bees. Get ready to buzz!