#9 Pollinators in Peril
"If the bee disappears from the surface of the earth, man would have no more than four years to live." Regardless of the accuracy of that famous quote, pollinators are indispensable to our planet. About one in three bites of food in the Western world depend on commercial bee pollination. But their numbers are dropping, fast. Bees and other insects are plagued by several afflictions. So what's bugging the bugs, and what can be done about it?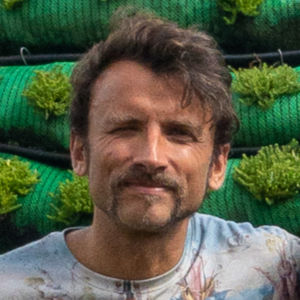 Tim Joye
Our first stop was at a vacant lot in our hometown, where art director Tim has launched his Beesphere project with the installation of the very first Beepod. It's a neat structure covered with bee-friendly plants, and it provides a home to tens of thousands of bees. The project aims to bring the local community and bee culture closer together in these unused spaces.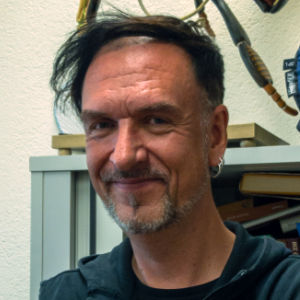 Peter Neumann
A worldwide authority on bee health, Peter was the perfect person to explain the many factors that contribute to the diminished bee populations. He's also the president of COLOSS, the research association that looks into colony losses, and a member of the B-GOOD project, which will gather data on sustainable beekeeping.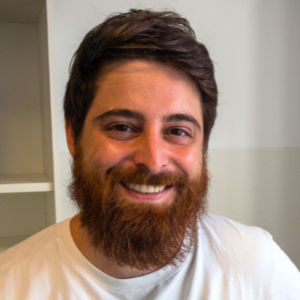 Roberto Pasi
Beeing is a company that tackles the pollinator problem like a Silicon Valley startup: with technology and innovative products. Their latest is the b-box, a stylish beehive that is simple, safe, and fun. Designed to give the bees a boost in our urban environments, it aims to lower the bar to get into beekeeping.
Additional notes & links
Here's that Beepod, sitting in a vacant lot in Ghent.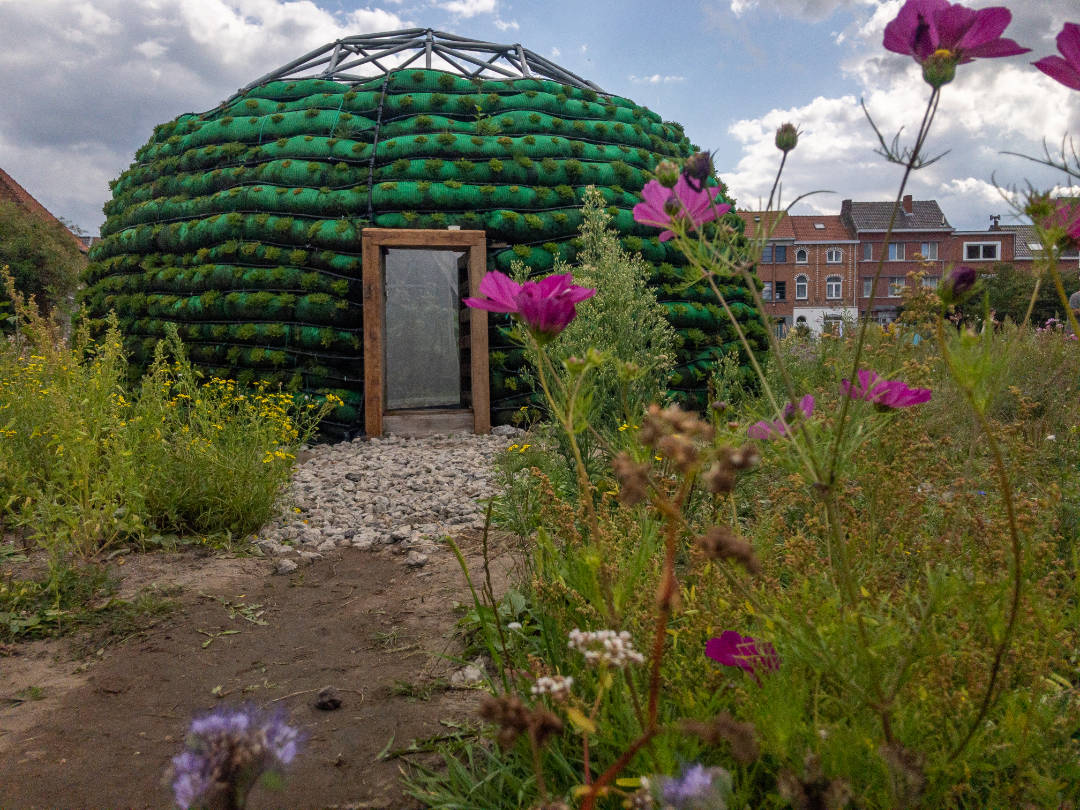 In September there was this scientific paper that claims wild bee populations are negatively affected by urban beekeeping, although it has since been contested and nuanced. Food for thought nonetheless.
Credits
🎵 All music by Lennart Schoors, except:
Ryan Taubert – Cheap as Chips
Lee Rosevere – Slow Lights
Lee Rosevere – Thinking It Over
Laxcity – Your Own Company
How Great Were the Robins – To Crown Misery (Instrumental)
Transcript
Introduction: Beesphere
Mei Van Walleghem: This story begins in a pretty large vacant lot in a suburb of our hometown, Ghent. These used to be playing fields for a local tennis club, but they have since been taken over by wild flowers and bushes. And today is a special day. A few dozen people have gathered here on this sunny sunday for a brunch, and also there's a band playing some jolly tunes. All of this, to celebrate the unveiling of the very first Beepod.
Lennart Schoors: Can you tell me, what are we looking at now?
Tim Joye: We are looking at the first child of the Beesphere project.
Mei: This is Tim Joye. Tim is an art director and curator, working on all kinds of artistic projects with environmental themes. Together with a few others, he designed the Beepod.
Lennart: It's a metal structure, a half dome, a couple of metres across, and it's covered with what exactly?
Tim: Actually it's a completely new technique, these textile socks. And normally they are used for enforcement.
Mei: So picture a dome, and draped all around it are these textile tubes that are made to protect slopes from erosion. They're usually filled with sand, but here they are stuffed with substrate – a whole lot of it.
Tim: 18 tons of substrate that we had to put in these green socks.
Mei: It sort of looks a bit like a green igloo.
Tim: So we get this kind of outer shell, and we use an irrigation system…
Mei: …that slowly drips water to more than a thousand sedum plants, the succulents that are often used on green roofs.
Lennart: We'll have some pictures on our website and Instagram so you can get an idea of how it looks.
Mei: Now, inside this structure, they placed a couple of beehives. About a 100,000 bees can live here, well protected by their artful housing, and they fly out to pollinate the neighbourhood. The Beesphere project aims to create several of these Beepods. They want to set them up in empty lots throughout the city.
Mei: The reason why the bees can use a little help, is that they have been under fire in recent times. And it's not just the bees, but also bumblebees, hover flies, butterflies, and countless other insects. Their numbers are dropping, fast. Some call it an insect apocalypse, or more specifically:
Tim: The pollinator crisis.
Mei: Within the group of pollinators, the bee is the most efficient and by far the most abundant, and as such, it is like the canary in the coal mine.
Tim: It's very sensitive to human presence and human pollution, so the bee is kind of symbolic in the story.
Mei: In this episode we'll look into what's wrong with our fuzzy flying friends, and what we can do about it.
Tim: That's the main goal of this sculpture, to bring the people and the bee culture closer together.
This is Tomorrow People, a show about building a better tomorrow, today. I'm Lennart, and I am Mei
Lennart: "If the bee disappears from the surface of the earth, man would have no more than four years to live." It's a famous quote often attributed to Albert Einstein, although there is no evidence that he actually said this, and even less evidence that it's true. But it triggers some very real questions: what's going wrong with bees, and where would we be without them?
Peter Neumann
Lennart: Well, we found some answers in a place where, coincidentally, Einstein lived for a couple of years: the Swiss capital of Bern.
Peter Neumann: Hi Lennart, Peter here, please come in.
Lennart: We met with Peter Neumann, he runs the institute of Bee Health at the University of Bern. He kind of looks like a rock star, all dressed in black, complete with earrings and leather wrist bands – perhaps not what you might expect from a worldwide authority on bees. He made some time for us, in between getting swamped with emails and travelling all over the world researching and speaking about bee health. Although he didn't start with bees…
Peter: Okay to be very honest, I'm an ant person. My passion for social insects started when I was a child. I was feeding ants with chocolate on a beach, and I loved to see how those little insects can carry giant pieces of chocolate. And later on, a couple of years later, I still was fascinated, but rather by how they get organised, and how they make teams, and how they transported. So in general, I have a fascination for insect societies, and how they manage to achieve amazing things.
Problems
Lennart: So little Peter went on to study, wrote his master thesis on bees, and he now researches what's going wrong with them. Some of you may have heard about the colony collapse disorder, or CCD. It's the phenomenon where entire bee colonies just suddenly seem to disappear. Peter is actually the president of COLOSS, the research association that looks specifically into these colony losses, but he's quick to point out that CCD is just one of many issues.
Peter: Colony collapse disorder is a very clear case of clinical symptoms, and it's just one way how honeybee colonies can die. It's in fact actually quite rare, and it now has disappeared almost, and we also don't know why.
Lennart: So several afflictions are plaguing the insects, caused by three major issues. First:
Peter: The destruction of habitats
Lennart: … triggered by global warming, deforestation, monocultures, …
Peter: The second point is we have a very industrialised agriculture
Lennart: … and it's using enormous quantities of plant protection products – pesticides.
Peter: And those plant protection products are unspecific.
Lennart: Meaning they target a single species of plant, but their impact may cover a whole range of fauna and flora, causing all kinds of direct and indirect negative effects. And then finally:
Peter: Then we're having invasive species.
Lennart: Like parasites and viruses. For bees, the most famous are the varroa mites, that can wipe out an entire colony if the beekeeper doesn't keep a close eye. Many words have been written blaming everything on specific cause. It's pesticides! It's neonicotinoids! It's parasitic mites! It's climate change! It's monocultures! The truth is that all these factors, they add up.
Peter: And not a single factor in isolation, is the one and only. I'll just give you an example: if you have good food and you're not poisoned, you're much better able to deal with any other stressors.
Lennart: But if you're undernourished, or your immune system is down, a simple disease can kill you.
Peter: So at the end of the day, it's a very complex interplay of factors which we are beginning to understand.
Why are bees important?
Lennart: So we know what's wrong with the bees, but why are they so important? You could say their role is symbolic.
Peter: Well, I had the pleasure to give a presentation at the European Parliament, and the very first slide I ever showed was a polar bear and a honeybee next to it. So what have the two in common? Both are flagship species. The honeybees are the polar bears of the insect world.
Lennart: Polar bears and honeybees are familiar, recognisable creatures, that people can easily rally around. They're ambassadors for a whole range of species in trouble. But next to that symbolic responsabilities, bees also have a very specific and indespensable role in our society. Did you know that in the Western world, about one in three bites of food you eat wouldn't be possible without commercial bee pollination?
Lennart: Commercial pollination services have become a multi-million dollar business. In some parts of the world, trucks filled with beehives travel all across the country, migrating from one crop to the other, from almonds to apples to watermelons to cotton. Bees have become some of our most treasured livestock. Yet they are still dying at alarming rates.
Mei: Ok, so we know what's going wrong, and why that's important, so what do we do about it?
Solutions
Lennart: We know that industrial agriculture, with its monocultures and pesticides, is one of the culprits in this pollinator crisis. So, can we just stop doing that?
Peter: This is a tough one, to be honest. I'm working in that area now for so many years, and I'm afraid the answer is not that simple. If it comes to food production, we have to take into account that we have to feed billions and billions of people. So changing agriculture is not easy.
Lennart: Still, there are a couple of things we can and should do: encourage more varied crops, we should require zones between crop fields to be left untouched, and we can stimulate developing better pesticides.
Peter: We're in the 21st century – science can deliver. So instead of totally abandoning plant protection, having a more targeted approach will definitely be helpful.
Lennart: So structural solutions in agriculture. But there's also an intriguing shift happening in terms of habitat for bees. Whereas the countryside is all too often turning into a desert in terms of biodiversity …
Peter: Cities – urban areas in general – are kind of nice areas for quite a range of species, including bees. Making cities more insect, more pollinator friendly, is certainly a way forward.
Lennart: And that brings us to the Dutch city of Utrecht.
Bee stops in Utrecht
Lennart: Okay so I'm here in Utrecht, waiting for a bus. I don't want to get on the bus though, no, I'm here to take a look at the bus stops. Several cities are already encouraging and even funding urban beekeeping, but Utrecht has taken it one step further. In 2019, it has transformed more than 300 bus stops in the city into bee stops. They did that by planting low maintenance greenery and wildflowers on the roofs of the bus shelters. These capture fine dust, they buffer rainwater and mitigate the summer heat, and they also attract honeybees and bumblebees, which is great for biodiversity and pollination. Every single bus stop is also fitted with energy-efficient LED lights and bamboo benches, and thus it becomes like a little green and sustainable haven for commuters, but also for our black and yellow striped friends.
Mei: If you want to take matters into your own hands, you can of course grow a bunch of wildflowers in your garden, or even in pots on a balcony. But some people are going the extra mile, and becoming modern day beekeepers themselves.
Beeing
Mei: On a hot September day, we headed to Cesena, a small northern Italian city not far from the Adriatic coastline. We visited the company Beeing – that's Beeing with two e's of course.
Roberto Pasi: Ciao, nice to meet you.
Mei: This is their CEO.
Roberto: I'm Roberto Pasi. I'm the CEO of Beeing.
Mei: Roberto holds a degree in philosophy, and is a coordinator of a startup incubator and accelerator – that's a lot of -ators – so you wouldn't really associate him with beekeeping at first. It was his grandfather who passed on the spark.
Roberto: My grandfather was a beekeeper, and so when I was like 5 or 6 years old, I helped him with the bees.
Mei: And even long after his grandad passed away, Roberto kept it up as a hobby. Together with his friend Gabriele Garavini, who has a background in IT, they figured that some of the issues that are troubling the bees could be tackled by their skills.
Roberto: And I mix my degree and my passion for philosophy, for life and for the big questions, with technology and innovation.
Mei: Their first product was an anti-theft device – because, as it turns out, beehives are sometimes stolen. It's a tiny plastic box hidden inside the hive, and it activates its GPS signal only if it detects movement. They also produce smart sensors, that allow you to monitor your beehive from your smartphone.
Roberto: And from the app, they can activate and deactivate, and check the position, and also check, every day, humidity and temperature.
Mei: It even has microphones.
Mei: Scientists have long figured out that bee colonies produce different sounds depending on the context.
Roberto: So for example, when the queen bee dies, they make a specific type of buzz. But without technology, you're not able to understand the different types of vibes. You just understand that there is a problem.
Mei: Most of the research on beehive sounds was on a few hives simultaneously at most. What if we equipped a whole lot more hives with these simple sensors, perhaps we could learn much more from all that data?
Mei: Roberto and his company have also been involved in a project using bees as bio-indicators. You should look at a beehive as a snapshot of its surroundings.
Roberto: For example, in order to produce one kilogram of honey, they visit over one million flowers.
Mei: The bees gather data, and the pollen and honey they produce are the database. You can learn a lot about the flowers & plants growing around the hive, but also about the presence of metals, and chemicals in the air for example.
Roberto: So you have to imagine a swarm of bees like a little army of scientists that fly around all the day.
b-box
Mei: The big break for Roberto and his co-founder Gabriele came this year though. In their quest to further democratise beekeeping, they realised that the traditional beehive, is still too discouraging for most people. Keep in mind, it's a design that was invented over 150 years ago. You need quite a bit of space for it, you need protective clothing, and a whole lot of time. They were looking for something that would lower the barrier to get acquainted with beekeeping.
Roberto: How we can provide a new type of hive that combines design and a solution that makes this hive more simple.
Mei: He took us down to the basement to take a look at his contraption.
Roberto: And here we have some hive for example, that's one of the first prototypes of the b-box.
Mei: They named their concept the b-box. An uncomplicated, compact case, made for urban settings, that you can easily install in your yard or on your balcony. There were two big challenges they wanted to tackle with the b-box though.
Mei: First up, it had to be simple and safe. The only entrance and exit for the bees is through a long chimney that is more than 2 metres above the ground, so basically the bees just fly over your head to their destination, so they don't bother you. The box also has a clear side panel, so you can watch and learn what's happening inside. If you're inclined to harvest the honey, the designers used a clever system that closes off part of the hive, so bees can get out, but no longer in. It's a well known technique, but implemented in a novel way.
Roberto: We simply integrate this system inside the hive. So you don't need to open, put the system in, and close. You just have to activate with the pull of a lever.
Mei: So you pull a lever, and about 12 hours later you can lift the transparent cover, and just take out one of the small modular honeycombs. You don't disturb the bees, and the bees can't bother you.
Mei: The second challenge was to make it an urban friendly, and ready-made object.
Roberto: We wanted to transform this idea, this prototype, into a product.
Mei: The b-box is made from plywood, shipped in a flat pack, and can be assembled just like any piece of Ikea furniture. It needs less than a square metre of footprint. They tackled the whole project a bit like a Silicon Valley startup would.
Roberto: We feel like Steve Jobs – when you create something simple. And I love very much this feeling, because you understand that innovation has to be simple.
Mei: They launched the b-box through crowdfunding, and raised over a quarter million euros. Instantly, they managed to convince hundreds of customers from all over the world.
Roberto: From Australia, from Japan, from Cuba, from … I don't know, places we never have been.
Mei: A complete b-box setup, including a colony of bees, will set you back about €700.
Roberto: If you have a good result in the first season, usually a beehive produces around 30 or 40 kilograms of honey. So you get back the money you invest in the hive in one year.
Mei: Now, you could see the b-box as some sort of beekeeping for dummies, but that's not really a fair assessment. It's very important to note that while it can be a fun and rewarding hobby, it's not a game. You still need the necessary skills and knowledge. This is what bee health professor Peter Neumann had to say about this.
Peter: In principle, this is very good. So that everybody can buy, at low cost, a beehive, and make your Ikea beehive – so to speak. However, the keeper is the key for the well-being of everything. So if you don't water your pot plant, it will die. If your hive has no food and you don't give sugar water, it will die. So you should know the basics of what your bees need, to keep them.
Mei: So this is why, when a customer actually buys a b-box, they get enrolled in a training.
Roberto: First of all, we connect him with his local beekeeper association. We provide online video, online classes.
Mei: They also have plenty of tips for books and other educational materials. A local beekeeper will then provide and install the colony of bees. We were wondering if those traditional beekeepers are welcoming new innovations like the b-box, or are they more suspicious of those youngsters with their crazy ideas?
Roberto: The second. Because, it's like …
Mei: … Roberto compares it with a tomato farmer for example. The farmer might see your attempts at growing tomatoes on your balcony and think to himself…
Roberto: You don't know what you are doing, you are not a farmer. And that's true.
Mei: But you're not interested in becoming a tomato farmer yourself, you just want a bunch of homegrown tomatoes in the summer. So why not make it easier for urban dwellers to keep a beehive, with a stylish, responsible and safe approach.
Roberto: I think that a really smart city is a city that combines nature with humans in a new way. Have a better life together. So what I can do for the bees, but also what the bees can do for me. Because we are one system with the planet, with nature.
Conclusion
Lennart: Perhaps it's sad that things had to go sour for the bees before the world had attention for them. But on the upside, there is a real shift happening, first in terms of the audience:
Peter: When I started working with bees, like 30 years ago, the majority of beekeepers were like male and 65 plus. That has now absolutely changed. When I'm now giving talks to beekeepers, there are a lot of young people between 20 and 30, and also lots of females.
Lennart: Research and the technology are now also catching up. Professor Peter Neumann is a member of the B-GOOD platform, a research project where institutions from all over Europe gather measurements and data over many years.
Peter: B-GOOD will for the first time put this in kind of a holistic approach. Trying to get kind of a complete dataset of all relevant parameters one can think about. And also by comparing between different regions within Europe, and also within regions, all this will provide correlations…
Lennart: … and ultimately causation. So beekeepers can act quickly and adequately to certain events in their hives.
Peter: Which will help us improving the health of bees. And also, en passant, the health of other insects.
Lennart: Because ultimately, there is so much we still don't really understand about bees.
Peter: My personal guess is, we understand less than 5%. There are many, many things in a colony of honeybees where we have actually no clue about. Many behaviors of the bees which we take for granted, or which we observe, have not been explored in detail. For example, honeybees usually do not defecate in colonies. The adaptive value of not pooping in your own bedroom has not been explored. And there are many other behaviors and phenomena in a colony which will require a lot of research.
Lennart: So there is still a lot of work to be done, but hopefully, at the end of the day, we'll still have some time left for the bees.
Peter: I'm kind of chained to my keyboard, writing papers, trying to raise funds, supervising students, talking with stakeholders, giving interviews, … So that's my duty, and it's ok, I like it. But nevertheless, in the future, I'll go do a bit of beekeeping myself again. Because at the end of the day, working with the bees was the reason in the first place that I'm sitting in the chair and giving the interview here to you. I love bees, and I need to work more with them in the future.
Credits
Lennart: This episode of Tomorrow People was produced, hosted, edited and scored by Mei Van Walleghem and me, Lennart Schoors. Additional music from Musicbed. Thanks to our guests Tim Joye, Peter Neumann, and Roberto Pasi. Additional thanks to Federica Cicerchia, Ellen Danneels, Sebastiaan Weijmans, and Matthijs Keuning.
Mei: If you want to have a look at the BeePod from the start of the episode, or you want to see the b-box bee hive, and the Utrecht bee stops, we'll be posting pictures and video on our Instagram, Facebook and Twitter accounts, and of course on our website tomorrowpeople.today. Make sure to subscribe so you won't miss any new episodes, and like, follow, share, all that jazz.
Lennart: Next time, we're focusing on something self-evident, but still undervalued. We'll be talking about tap water.