#10 Just Add Water
1 million plastic bottles are made, sold and transported every minute on this planet. Beverages, cleaning products, laundry detergents, … We're storing and transporting a lot of things where the primary ingredient is water. And yet we all have perfectly fine water coming out of our faucets at home. To add insult to injury, why are we flushing our toilets with perfectly potable water? Let's dive in and hear from three entrepreneurs how we can do more with our tap water.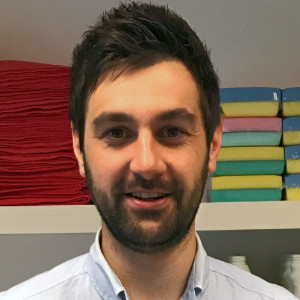 Raf Schoonbaert
After working as a representative in the cleaning industry for a couple of years, Raf wondered if there was a better way to store and transport the heavy and bulky cleaning product containers. Spoiler: there is. He is now the man behind Ecopods (Dutch only) – concentrated cleaners wrapped in tiny biodegradable pods. Just add water and shake!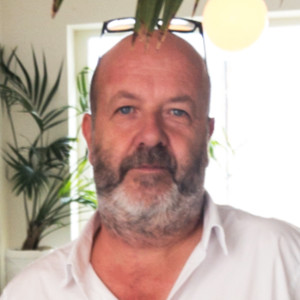 Patrick Doyen
A true veteran of the beverage industry, Patrick decided it was time for something else. But it didn't take long before he returned. Instead of marketing the most popular sodas in the world, he's now aiming for impact by reducing the amount of water stored and shipped. One billion fewer plastic bottles, that's Robinetto's big goal.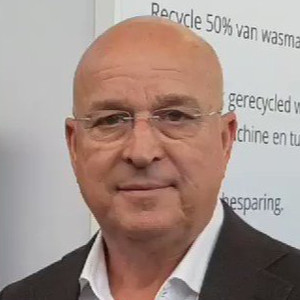 Arthur Valkieser
Although we should definitely do more with tap water, we should also keep an eye on using it effectively, and smart. Which is how, one day, Arthur found himself pondering. If we would redesign the world, we'd never flush our toilets with drinking water. So he set out to invent a home appliance that recycles and filters our household water: the Hydraloop.
Additional notes & links
Reuters' Drowning in plastic does a perfect job of visualizing the amount of plastic bottles that are produced and sold every day. Here's all the plastic bottles of the past decade, next to Manhattan. 😱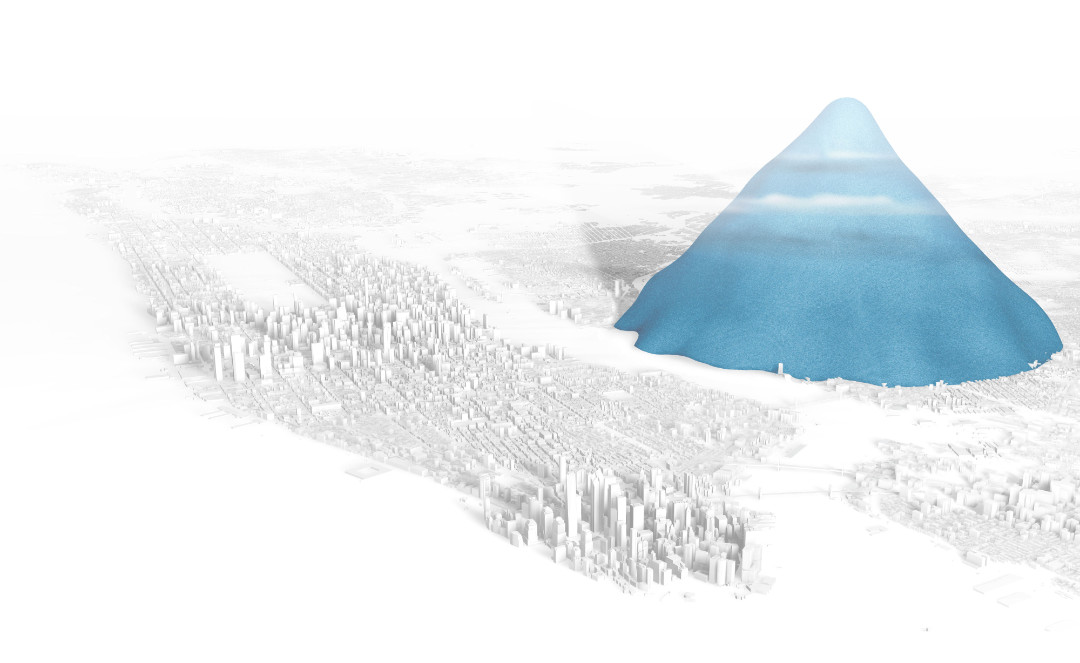 This is what the Hydraloop looks like: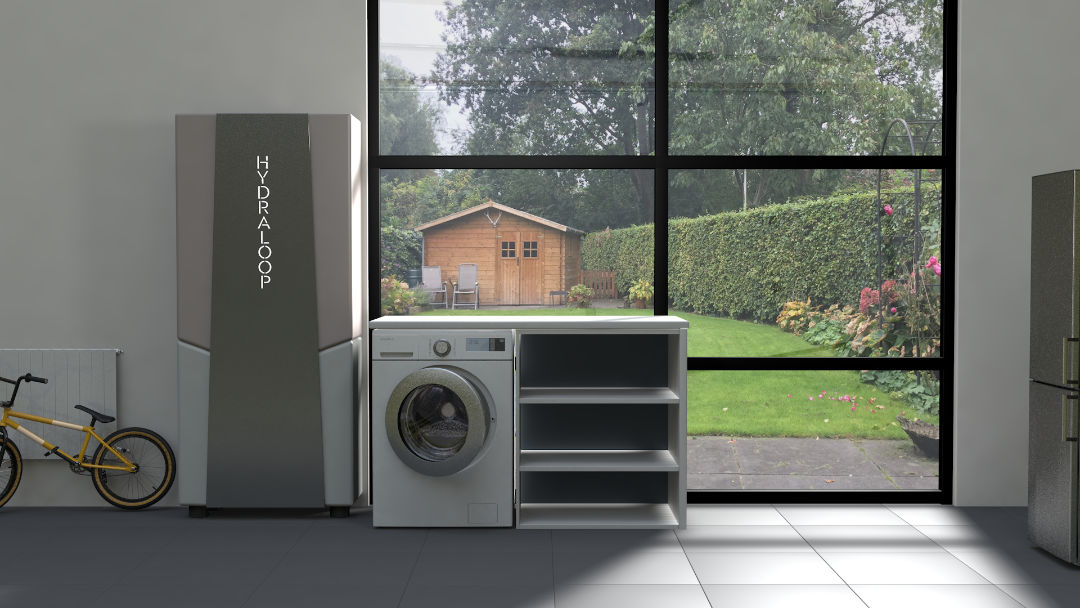 Credits
🎵 All music by Lennart Schoors, except:
How Great Were The Robins – I. Transformation (Instrumental)
Jacob Montague – Apart
Lee Rosevere – Expectations
Lee Rosevere – Betrayal
A.M. Architect – Epoch
Lee Rosevere – Start the Day
Red Licorice – August
Lee Rosevere – Decompress
Transcript
Kitchen cleanup
Lennart Schoors: Hey Mei, what are you up to?
Mei Van Walleghem: Well, I'm organising the kitchen. And so far, so good, but I'm struggling with this. It's a drawer full of products. We have laundry detergent, there's hand soap, there's degreaser, … There's all these bottles and they take up a huge volume.
Mei: And it's crazy when you think about it, 'cause if you look at this bottle, it's like one and half litres, but it's mainly just water. It's a liquid, isn't it, and it's not really concentrated, so … this is a drawer full of water.
Lennart: Isn't that strange? I mean, all that water, it's pretty heavy, it makes it harder to transport, harder to store, … Makes you wonder, there have to be alternatives?
Mei: Well, in the bathroom I already made the switch. I replaced my shower gel with a regular bar of soap, and it's been working fine for months now.
Lennart: Oh that's good. Well, recently I came across another thing that would really help with this problem.
Mei: Really, what is it?
Lennart: They call them just-add-water products. So I got this little bag filled with capsules. Take a look here.
Mei: Let's see. Oh yeah, it's these little plastic bags filled with colourful liquids. They look like those laundry and dishwasher pods.
Lennart: Exactly, but they're not made of plastic of course.
Raf Schoonbaert: The pods are made of algae. That means they're also biodegradable, just as the product itself, so we get a completely natural, biodegradable product.
Lennart: This is Raf Schoonbaert, and he's the guy behind these capsules, called Ecopods. There's a couple of products like this – several variations and different brand names. The one I was holding is a kitchen cleaner. And that wrapper made from algae is actually pretty neat.
Lennart: So you take one of these Ecopods, and you drop it into an empty spray bottle. You fill the bottle with tepid water, and then shake it a little. Now the algae will start dissolving.
Lennart: And after just two or three minutes you have a perfectly working cleaning product.
Mei: Oh that's neat. So that way I don't have to keep that stash of bottles. Can I have them, so I don't have to carry all those bottles from the store anymore.
Lennart: Sure thing.
Lennart: Cleaning products, laundry detergents, drinks, … We're storing and transporting a lot of things where the primary ingredient is water. And yet we all have perfectly fine water coming out of our faucets at home.
Mei: So let's dive in and see how we can do more with our tap water.
This is Tomorrow People, a show about building a better tomorrow, today. I'm Lennart, and I am Mei
Lennart: 1 million plastic bottles are made, sold and transported every minute on this planet. Now, I know this sounds like some crazy high figure that's pretty hard to wrap your head around. Which is why the news agency Reuters has made some very insightful graphics for this. Hold on, I'll send you a link.
Mei: Alright, I've got it … Drowning in plastic.
Lennart: So you can see how much plastic bottles have been sold since you opened this page. So there's the animation and you can see, well, like thousands and thousands of bottles dropping from the sky. And if you scroll down a bit you can see how much bottles that is like every hour, every day, one month, … And then I want you to scroll all the way down.
Mei: Okay, I see the Eiffel tower here.
Lennart: Yeah, it's getting completely submerged with plastic bottles.
Mei: Oh my, that's horrendous.
Lennart: Yup, and then, all the way at the bottom you see how much bottles that is for ten years. So the past decade, and you see a mountain of plastic bottles that dwarfs Manhattan. It's 2.4 kilometres high.
Mei: Wow.
Raf Schoonbaert (Ecopods)
Lennart: So, back to Raf Schoonbaert and his Ecopods. We paid him a visit in his office on the outskirts of Antwerp, Belgium, and we spoke about what sparked the idea.
Raf: I've been active in the cleaning industry for about nine years right now, working as a representative for cleaning products. And I always noticed there was a lot of plastics going around, heavy products as well, not easy to transport, and because of that I thought, maybe some things could be better. That's why I kinda started with this whole project.
Lennart: Raf now sells the Ecopods in a webshop, through a couple of local stores, and he supplies a few home cleaning services. He put a lot of thought into the packaging and usability of these pods.
Raf: We have four different colours. Clear, easy to understand colours.
Lennart: So there's the green pods, for cleaning floors, that you drop straight into a bucket of water. The three others all go into spray bottles. Yellow is a kitchen cleaner, Red is for bathrooms, and blue is a universal cleaning agent also used for windows. If you want, you can get these matching spray bottles with your first order, and optionally you can get the fancy aluminium ones.
Raf: For the moment we have bottles from recycled plastics. They're good, they're durable, because plastics are. But, there are lots of people who are against plastics, no matter how you use them, so that's why I have the aluminium bottles coming in for them.
Lennart: And you can keep using these bottles pretty much forever.
Raf: Once the bottle is empty, you just rinse it out, take a new capsule, put some water in from the tap, and you're ready to go again.
Lennart: So it's a pretty neat, ecological product. But still, it's a challenge to market this.
Raf: People want to get involved in a more sustainable lifestyle, in a more ecological lifestyle. But they don't want to change their habits. They want to keep using the products as they are used to.
Lennart: People are creatures of habit. Or, let's just call it what it is: we're lazy. You can call to our principles and morals all you want – the success of an alternative, green product depends on putting the smallest possible burden on a consumer.
Raf: And that's why Ecopods is, in my opinion, a good product. Because you change the use of plastic, you change the use of water, but you don't lose any comfort when cleaning. And I think that helps to get the product to the people, and make sure they don't have too much issues or problems with using it.
Lennart: Ease of use is one thing, there's also the issue of price of course.
Raf: They also can't be more expensive, because the people just want to pay the same price as their traditional products, which is a big challenge.
Lennart: And that leads us to the typical chicken or egg question. Who's responsible for solving these issues, the industry, or is it the consumer?
Raf: Well, the thing is, the industry can change a lot, but they always produce what the consumer is asking. So I think, as soon as there is a mind change with the consumer, the industries of course will follow. And I think it's up to the industries to create products which are as easy to use as traditional products, but it's up to the consumer, of course, to decide which product he wants to work with. So I think it's a little bit of both.
Lennart: For now, Ecopods is still pretty much a one man company.
Raf: The operational side of it, is something I do all by myself, so packaging and labeling, that's all done over here. The products themselves are produced and put in the capsules in Italy for me. But all the rest, for now, is done by me. I hope that will change soon.
Lennart: But right now, every single order passes through his own hands. And that's only possible because he doesn't have to store and ship hundreds of liters of water.
Raf: I used to work with traditional cleaning products. I had a warehouse for about a thousand square metres. Now I just have a little office, twenty square metres, and that's more than enough to store all my products for the next few years. So yeah, it's a very easy product to handle.
Lennart: Raf thinks that this trend towards more concentrated products is an inevitable evolution for all kinds of goods.
Raf: I'm guessing that transportation is something that will have to change anyway. Not only because of the environment, but also because of traffic jams, and the amount of vehicles on the road. So I think that will change – not necessarily cleaning products, but all sorts of products will evolve towards a more compact product.
Lennart: So how do the big players in the cleaning industry look at small, disruptive players like Ecopods?
Raf: I don't think they see us as a threat, because they're focussing on sustainability, but big companies can't just make a switch like that, so they're …
Lennart: They're making small incremental changes. Because we're talking about big multinationals, the effect of these changes can be huge, but still, they don't seem to want to jump on this idea just yet.
Raf: I haven't had any contacts from any of the big companies, so I assume they'll just let it be for the moment, but we'll see how things go.
So Raf keeps working silently in the shadows, waiting for the time to shine.
Raf: We're no Coca-Cola, or any other big brand with lots of marketing budgets, so that makes things very hard to get the general public to know the product. So that's my main struggle.
Mei: Turns out, it's not easy to introduce new products that aim to be smarter with how we merchandise water – even when you're Coca-Cola. Or, at least, when you used to work there. Like our next guest.
Patrick Doyen (Robinetto)
Patrick Doyen: So my name is Patrick Doyen.
Mei: Patrick has had a long career in the beverage industry, most notably as the sales and marketing director at Coca-Cola Belgium. He spent 25 years selling bottled drinks.
Patrick: I must honestly say that I don't remember every detail of it.
Mei: He does remember though that he started at the mineral water company Spa, named after the village in the Ardennes, which is not coincidentally also the origin of the English word spa. In fact, it was one of the first sources to start bottling and commercially distributing water, all the way back in the 16th century.
Patrick: People filled up containers with Spa water and exported that also to other countries.
Mei: For hundreds of years, people have been buying bottles of mineral water, attributing them all kinds of therapeutic properties. But in the last 30 to 40 years, the consumption of bottled drinks has skyrocketed.
Patrick: In fact, what is very interesting to see, that is the regional differences first.
Mei: Indeed, looking just at water, we're talking about 40 liters per person per year, globally. In Scandinavia they're fine with 10 to 20 liters – which is half or even less than the average. But in countries like Italy and Germany, that number goes up to a staggering 180 liters. So that's everyone drinking half a liter of bottled water per day, on average. There's almost a 2000% difference between Italy and Sweden.
Lennart: Jeez. So is the tap water like cleaner or tastier in Scandinavia?
Mei: I don't know. I've never done a comparative study or anything…
Lennart: Maybe our listeners should write in? Like, how good or bad is the tap water where you live?
Mei: Good idea, I'd want to know. So the big question of course is: why do people drink so much bottled water when we have readily available tap water at a fraction of the cost?
Patrick: Explaining that is not easy, because it has tons of reasons why this happened.
Mei: There are lots of prejudices in terms of health, but we do have strict regulations from the World Health Organisation and the EU, so the water that arrives at your house should be safe and healthy in the whole of Europe. Of course, old houses have old pipes, and then the argument of taste also comes into in play – but that can easily be fixed with a simple carbon filter – you know, those Brita filter jugs for example. In the end though, we have to admit:
Patrick: The marketeers did their work really good.
Mei: Manufacturers of bottled water have tremendously succeeded in selling their product. But people can only drink so much, so one of the tasks Patrick Doyen had in his job was to get more revenue from the same volume.
Patrick: The typical way of doing that – and that's not only the case in beverages, that's the case in a lot food industries and food companies – that is that you start making more convenient, smaller packages. And you can charge a higher price for that. Knowing that in fact the incremental cost of the package is perhaps a few eurocent, but the incremental value that you can give to it is a lot more.
Mei: Smaller bottles means higher margins, but of course also more packaging, more plastic, more transport. And you can see why glass bottles aren't really a solution here. The large weight of the bottles and the amount of resources required to produce them, often make them the least environmently friendly solution of all. So, in the end…
Patrick: By putting the world full of plastic, you earn much more money.
Lennart: That is kind of a chilling realisation, isn't it?
Mei: Definitely. But that understanding didn't really come until Patrick had left the industry.
Patrick: I never saw it when I used to work there, because if you're in the house, then your vision is completely different.
Mei: Of course, when you're in the frame, you don't see the picture. Even if those corporations would suddenly see the light, they're not going to simply abandon their profits. Their shareholders would never accept that.
Patrick: The number one, the leader in the market, he will try to continue as he always did, as long as possible.
Mei: But what you will see is the incumbent players trying to improve their position by launching initiatives, products and campaigns that might be pushing the needle in the right direction. For instance, there is a lot of focus right now on recycling. But that's only part of the solution.
Patrick: All the recycling plants and sorters, they're not in your neighbourhood. You've got a lot of plastic that is waste here, that is exported to Asia, and then it comes back, so …
Mei: … so actually this increases the transport. Another solution is making your own drinks with a device that allows you to carbonate tap water at home. When Pepsico bought major player Sodastream for more than three billion dollars in 2018, some saw that as a big shift in the industry. But despite perhaps having good intentions of solving the issue …
Patrick: These companies will probably not solve that in a short time.
Mei: Patrick himself is the first to admit he was trapped in a golden cage.
Patrick: In these kind of companies, when you're successful then you really get pampered, and you get a good bonus. And when your result that year is better, you get a better bonus, and then you get … the sky is the limit. It really takes an effort to step out of that, and look from the outside.
Mei: But that's what he did, in 2012. He quit, not because of some burgeoning conscience, but simply because it was time for something else, after 25 years in the beverage industry. He just went on to do other things. Three years later though, a chance encounter made him return, albeit in a entirely different role.
Patrick: In 2015 I met Jeroen Vereecke.
Mei: Jeroen is a local bar owner and festival organizer, and back then he was building the BoomBar, which they called "probably the most sustainable bar ever". It's a lightweight mobile bar that's very energy efficient: it can be powered by solar energy, the dishwater is heated by the compressors of the beer taps, the drinks are all sourced locally and free of disposable packaging. It was a fun endeavour, and it got them thinking.
Patrick: Of all the ideas in that project, what are the ones that are easy to implement, and could have a really big impact.
Mei: They quickly decided that making the drinks on the spot made the biggest difference. Just by using tap water, carbonating it and adding different kinds of syrups. Like I said just a minute ago, you can easily do this at home, and some festivals and bars already do this for a handful of big brand names, but it's still pretty rare to tackle this structurally, across the board. Yet the benefits are big and immediate.
Patrick: Avoiding to transport and pack water, has a huge impact.
Patrick and Jeroen decided to turn that idea into a business.
Patrick: From one day to another, I was again in the beverage industry, so …
Mei: They called the company Robinetto, a name derived from robinet, the french word for a water tap. They sell and rent water taps for bars, restaurants, offices and events, and work together with local syrup producers. But whereas his previous employers were big multinationals, Robinetto is an infinitely smaller undertaking. They have big goals, but perhaps they will not achieve them on their own. Which is why they are aiming for impact rather than profit.
Patrick: And of course we need to make a profit to survive – that's true. The reason why we are embracing, in fact competitors that would start up, is that this potential market is so big, that you just can share it. And when you work on the impact with three or four or five or six initiatives, then the speed of making the impact will increase.
Mei: Lennart, let me ask you, what do you think a bar owner should charge for tap water – with or without some syrup? Should it be the same as a bottled water or soda, or cheaper?
Lennart: In a bar, you say? Well, since it's much cheaper to produce, I guess it should be cheaper?
Mei: Well, I asked Patrick for his opinion on this.
Patrick: That's a tough question.
Mei: He says the price could be a little lower, but not by much. Because the price the bar owner pays for the actual product is just a very small part of the price you pay at the bar. Things like rent, personnel, utilities, and all that, are a much bigger factor altogether. So yes, take like 30 cents off the price, but keep them equivalent otherwise.
Patrick: That means that the pub owner, he does something that is really good for the planet, and he will be able to continue his business. Because, in fact, the profits that he had, remain the same.
Mei: It's an important point for him, not in the least because he is now a bar owner himself. It's a fairly small neighbourhood pub – more of a passion project really – but it's the ideal playground to test out their new concepts and machinery.
Mei: So, looking back at his career so far, I asked Patrick Doyen if he regrets the first part of it.
Patrick: Do I regret, no. Because I had no bad intentions when I was doing that. Even the people that still work there, I don't think they do this with bad intentions – not at all.
Mei: The way these big businesses are set up, and their incentives, just make it very hard for us to expect them to radically change the system. And then we need small players, like Patrick and his company Robinetto, who have seen the machine from the inside, to shake the bottle and stir things up.
BREAK
Lennart: Without listeners there would be no Tomorrow People podcast. So if you like what you're hearing, please do tell your friends and family. Word-of-mouth is the best way for us to reach more people. Send them over to our website tomorrowpeople.today. It has all the information on how to subscribe directly through your favourite podcast app on your platform of choice, or in Spotify for example. Another great way you can support us is by leaving a rating and review, on Apple Podcasts. It all helps us spread the stories of the Tomorrow People. Now, let's turn the tap back on.
Arthur Valkieser (Hydraloop)
Mei: When you open the faucet, water comes out. Unless they're working on the pipes in your street or your house, it's a certainty, right? So if you think about countries threatened with running out of drinking water, you may think of hot desert nations like Saudi Arabia, Iran, Qatar and Libya. And rightly so, as these are some of the countries suffering most from water stress. But much, much closer to home, here in Europe, we're actually not that far from running into trouble. I mean, rest assured, we still have some ways to go before the taps run dry in the summer. And by all means, keep drinking tap water, rather than buying bottled drinks. But Italy, Greece and Portugal are examples of states in the list of "high baseline water stress". And the worst European offender? It's Belgium – our own home country.
Lennart: There are a couple of solutions to this problem: of course we can use water more sparingly, that goes without saying. We should also harvest and buffer rainwater – we've talked about this before in other episodes of this podcast – but that's not always possible or practical or sufficient. There is a third approach though…
Arthur Valkieser: The basic idea is simple: why use drinking water to flush the toilet. If you redesign the world you would never do it that way. So the only solution is to be smart and water wise and use it twice.
Lennart: These wonderful rhyming words come from the mouth of Arthur Valkieser.
Arthur: My name is Arthur Valkieser, I'm the CEO of Hydraloop Systems.
Lennart: His point is a very valid one: why are we using potable water for non-human consumption? With a warming climate, a global population on the rise, and increased access to sanitation, we'll have to use every drop of water two times: once for real drinking water, and once for other uses.
Arthur: We need to use water much more smart than we do today.
Lennart: Headquartered in the city of Leeuwarden in the Netherlands, the company has developed an appliance that will help with that. I met Arthur at a demonstration of the Hydraloop, organised by local distributor Ecopuur. Many years ago, pondering about how to reuse our household water, Arthur had an idea, and tested his prototype at home.
Arthur: I took a bottle of water, and tested it in the kitchen, just to check the mechanism. And I saw that it worked, and that's the basis of the patent.
Lennart: So the Hydraloop is a sleek home appliance, think like a large refrigerator, but half as deep. It's installed in your garage or storage room, and hooked up to the grey water in your house. Grey water is relatively clean waste water, compared to the so-called black water from toilets or the kitchen.
Arthur: So collect the water from the shower, optionally from the washing machine, treat it so it meets international standards and it's safe, and then you use the water for the second time, for toilet flushing, washing machine, and garden.
Lennart: You'd be surprised how much perfectly usable water is just squandered.
Arthur: And by doing this, you reduce your water consumption and your waste water, with up to 45 percent. So it's fifty liters per person, per day.
Lennart: Of course, water treatment systems have existed for decades, but they're often expensive, fiddly, or way too big to put into a house.
Arthur: Traditionally, machines that treat water use physical filters or membranes. They work fine, but the membranes clog, and then they need maintenance. And we designed this as a consumer product, and a consumer product has to be low on maintenance requirements. Every system is connected to our central server, so it is monitored. And we expect that the maintenance frequency will be somewhere between one and two years, for preventive maintenance.
Lennart: So how does it actually work without filters or chemicals? Well there are 6 different water treatment techniques in use here.
Arthur: Sedimentation, flotation, and then we use millions of tiny air bubbles that travel upwards through the contaminated water, and then suspended solids have the tendency to stick on the skin of the air bubble. And then this air bubble goes to the surface, and there we skim off the dirt to the sewer. And then we disinfect it and store it in the lower storage tank, so it's safe to use.
Lennart: The whole process takes about four and a half hours, and about ten percent of the incoming water is discarded, depending on how much soap was used. An app on your smartphone will tell you when you run out of recycled water, and then the system simply switches to the mains water as a backup. A full Hydraloop set up costs a couple thousand euros.
Arthur: But the pay back time is between six and nine years.
Lennart: Now, the device does use electricity, but the amount might be offset because for example the water for your washing machine doesn't have to be heated as much if it's recycled from your shower.
Lennart: So far, about 100 units of the Hydraloop have been installed in a handful of countries. It has already proven its value in Cape Town, where the city was forced to introduce pretty harsh temporary restrictions, limiting inhabitants to just 50 liters of drinking water per day. But if you have your own grey water treatment box and you can almost double that to 90 liters, that makes a big difference. The benefits are universal however, and they're gearing up for worldwide production and distribution.
Arthur: We think a water recycling system has to become a standard appliance in every house. Just like the fridge, just like a washing machine, just like the dryer, the solar panels on your roof, your airconditioning and heat pump, and your water recycling system. It's smart.
Conclusion
Mei: How we use our water supplies is a question we'd better think about before they run out. Meanwhile, the just-add-water products help to save our backs when grocery shopping. And let's appreciate our tap water by choosing a local syrup based drink in a bar, or reusing it in our households.
Credits
Mei: This episode of Tomorrow People was produced, hosted, edited and scored by Lennart Schoors and me, Mei Van Walleghem. Additional music by Lee Rosevere and Musicbed. Thanks to our guests Raf Schoonbaert, Patrick Doyen and Arthur Valkieser. Additional thanks to Sandra Deblander and Elke De Mayer.
Lennart: Do keep an eye on our website and social media accounts – Instagram, Facebook and Twitter – for news and updates. We'll have links and pictures of the Ecopods, the Hydraloop machine, and lots more. Feedback and reviews are very welcome as well. Just head to a web browser near you and enter tomorrowpeople.today.
Mei: Ever wonder whether meat is losing its momentum? We'll talk about the rise of plant based foods in our next episode. Make sure to subscribe.